Dr. Yuan talks about diamonds: Can diamonds preserve value and increase value?
---
Diamonds are a kind of commodity and luxury goods. After all commodities, especially luxury goods, are bought by consumers and sold as second-hand commodities, they will have a very high price difference. For example, cars and new cars will be sold soon after landing, with a price loss of about 15-25%. After buying diamond jewelry, wear it for a year or two and then sell it, tax, rent, expenses, profits of jewelry stores will be reduced. In addition, the discount of auxiliary diamonds, metals and inlays will be reduced. After the diamond is inlaid and worn for a period of time, the diamond will have a cleavage surface that is easy to be bruised. It will need to be polished again. The loss of weight is inconsistent with the weight of the original certificate. It needs to be re-certified, even if there is no bruise, the diamond's certificate is outdated and must be re-issued with a new date before it can be easily sold again. The result of certification may be degraded in color, clarity and lathe, because large wholesalers send identification certificates in batches and small jewelry stores occasionally send one or two certificates, which are often degraded. All these losses may account for 60% ~ 70% of the value of the whole piece of jewelry, and the recycling merchants still have profits, so they may only pay 1/4~1/3 of the purchase price of the consumer at that time. All the operators are not willing to recycle diamonds to cause these troubles, and they do not want consumers to know that the huge difference in the actual value of the diamond jewelry they bought at a high price will affect the reputation of the store. Therefore, they directly refuse to recycle, so as not to affect consumers' willingness to buy diamonds in the future.
When consumers buy, jewelry stores will not remind consumers of the possible situation of selling diamond jewelry for cash. They will only emphasize that "diamonds will only increase in price, not fall in price", "diamonds will last forever, and one will last forever." "Diamonds can preserve and increase in value".
Cultivating diamonds is also a similar situation, but the price is much lower than that of natural diamonds. After consumers buy them, they will complete a phased purpose. They are usually used for decoration and do not have the expectation of maintaining and increasing value.
Since the quotation was issued in Rapaport 1978, to March 14, 1980, the quotation 1 karat D/IF quoted US $62000/carat, which is the highest price in the history of diamonds. By the end of November 2021, the quotation 1 karat D/IF quoted US $19600/carat. From 1980 to the middle of 2021, it was about US $10000/carat in 1985. Then it kept ups and downs. Most of the years were falling and a few were rising.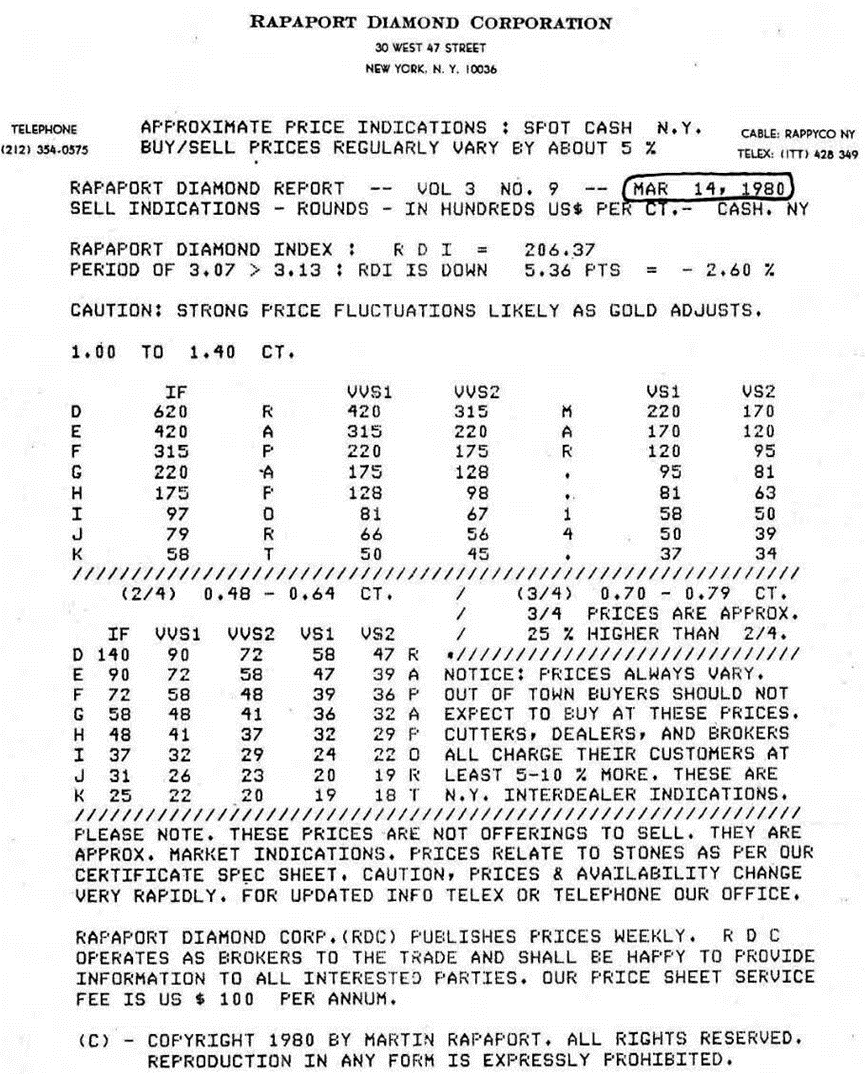 Figure: Rapaport quotation of March 14, 1980 1 karat D/IF,US$62000/carat.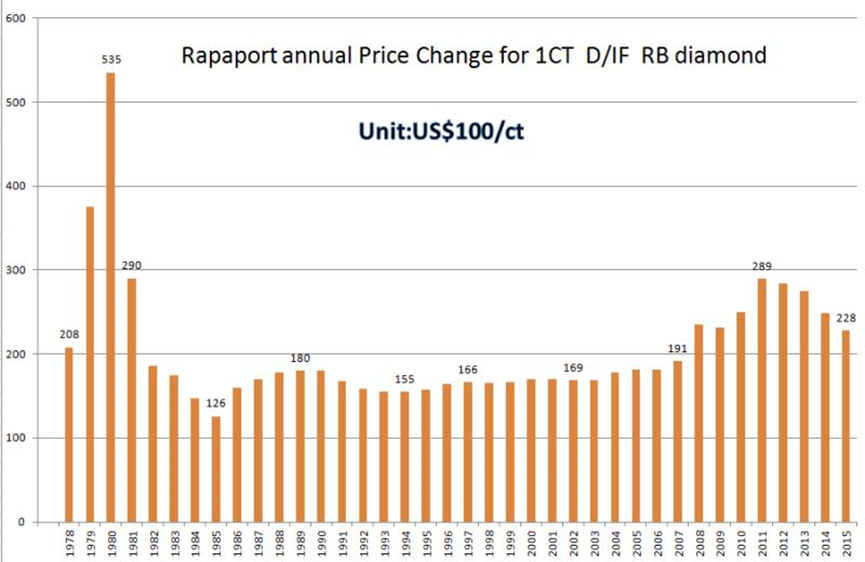 Rapaport quotation to 1 karat D/IF, the annual average price from 1978 to 2015, a total of 38 years of evolution records. Eighteen of those years were up, 20 were down, and 1980 was the highest.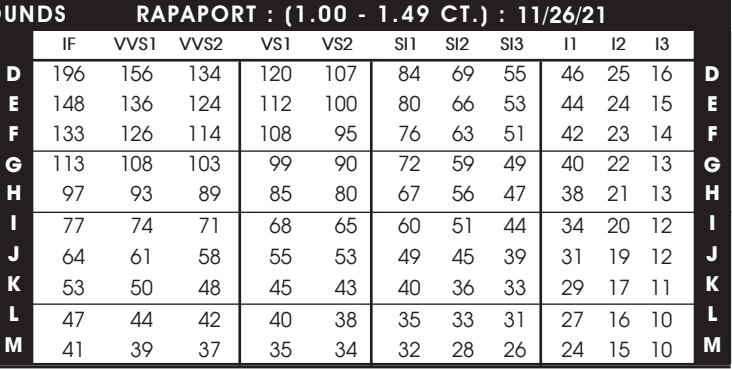 The latest 1 karat D/IF diamond price on November 26, 2021 is US$19600/carat, which is less than 1/3 of the highest price in history. Coupled with the depreciation of the US dollar, the 1 karat D/IF diamond has dropped by about 80% to 90% in the past 40 years.
All goods have similar second-hand sales discount problems, diamonds have bruises, heavy grinding, certification, downgrade and other problems, coupled with the buyer's doubts about the authenticity of diamonds and whether they are stolen goods, so the recovery of second-hand jewelry merchants are very few, and finally can only find pawnshops to recover.