Dr. Yuan talks about diamonds: what you should pay attention to when investing in HPHT plants
---
Since GE Company first grew high-temperature and high-pressure synthetic diamonds in 1953, China also grew successfully until 1963. Up to now, everyone has worked hard to grow large particles for jewelry use. In recent years, about 20 billion carats of yellow abrasive have been grown every year by high-temperature and high-pressure methods, and about 8000 sets of six-sided top presses have to be used. White jewelry uses about 3 million carats of large diamonds and about 3000 sets of six-sided top presses, which are absolutely dominant in the world. Other uses are very small, such as car blades, wire drawing dies, etc.
1. Casting, forging six-sided top press
There are about 10000 six-sided top presses in China, and another five new factories are under construction. It is estimated that 5-6000 large six-sided top presses will be added. Now the manufacturing of large six-sided top presses is the bottleneck. The forged six-sided top press newly released two years ago is another choice and is undergoing the test of time. It turns out that the hinge beam is made by casting method, which has low plasticity, is not easy to deform, and has a service life of about more than ten years. After more than half a century of tests, the industry is basically satisfied. The plasticity of forged hinge beam is strong, and the growth of large-particle diamonds is good. If abrasive grows frequently, it is easy to deform. After long-term use, stress will cause plastic deformation of the six hinge beams, causing deviation of the six top hammers to neutral, which is easy to cause shooting and damage to the top hammers and parts. It remains to be seen how many years it can last under the condition of continuous boosting and depressurization, heating and cooling. At present, the amount of casting and forging six-sided top large-scale presses that can be supplied to customers is about 600 units per year nationwide.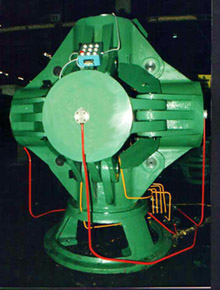 2. high temperature and high pressure suitable for the growth of 3, 4 karat size of the blank
If due to the De Beers factor, other diamond cultivation manufacturers in the world cannot compete for more than 1.5 karat of finished cultivated diamonds, and high-temperature and high-pressure manufacturers can also compete for finished cultivated diamonds of 1.5 karat or less. As the retail price of finished cultivated diamonds of these sizes in De Beers is still US$800/carat, we still have room to compete. For cultivated diamonds of these specifications, we can use a high temperature and high pressure six-sided top press to grow 3 or 4 karat blanks to cut and grind finished cultivated diamonds below 1.5 karat. Blanks with good clarity can be cut and ground into large drills of more than 1 karat, while blanks with poor clarity can be crushed by Indian cutting mills to make medium and small drills of various sizes. The high temperature and high pressure six-sided top press should carefully consider the increased quantity, otherwise after the market is saturated, the extra presses will go back to grow industrial abrasives, resulting in excess output, which will reduce the price of diamond abrasives and damage the profits of all operators.
3. must have good growth techniques
Technology and technology are an important factor in growing high-quality diamonds. Investors must find a really good source of technology. If the product quality is not good enough, it will cause great trouble.
The cleanliness of diamonds cultivated under high temperature and high pressure is mostly Sl or even PK, which is also related to the growth speed. If the growth is slower, the cleanliness will be better, the growth speed will be faster, the black catalyst metal impurities will be more, VS will be less, and the yield rate will be about 10 ~ 40%. depending on the technology of each company, VVS will be available, but the proportion is very small.
Color control of 4. high temperature and high pressure diamond
The color of high-temperature and high-pressure diamonds is now up to D/E/F, and only a small number of manufacturers' technologies have not been overcome. There are some relatively poor colors, such as H/I/J/K, or with some green, blue and other variegated colors. In factories that grow colorless diamonds under high temperature and high pressure, when purchasing graphite, it is necessary to make sure that the boron content is as small as possible. Although the electrical conductivity must be unavoidable, when the boron is as small as possible, the color of the finished diamond will not be grayish blue and slightly dark.
New Two-Layer Growth Technology of 5. Large Press
Professor Deng Fuming of China University of Mining and Technology announced at the 2021 Superhard Materials and Products Industry (Changsha) Exchange Conference on October 14, 2021 that a large press with a cylinder diameter of 1000mm will arrange two layers of seed crystals and grow 34 grains of 3~4 karat blanks in one furnace. This technology will be gradually developed and will be of great help to the industry.
Improvement of 6. Six-sided Top Large Press
The industry of six-sided top press has been improving the large press with cylinder 1000 and 1100mm cylinder diameter, which will make considerable improvement to the output and effect of the industry.
Conductivity of 7. Colourless Diamond under High Temperature and High Pressure
Colorless high temperature and high pressure synthetic diamond is the semiconductor of electricity. Natural diamonds are only type IIb because they contain boron and can conduct electricity, while other types are not conductive.
When growing colorless diamonds at high temperature and high pressure, titanium or aluminum will be added as nitrogen removal agents, and nitrogen will be combined first. Boron in graphite will exist in the crystal lattice of diamond, showing blue or colorless depending on the amount of boron. With a very small amount of boron, even a few ppb, diamond is still colorless, but it has semiconductor properties and conducts electricity. When the automatic polishing machine grinds each facet, the fixture is conductive when in contact with the grinding disc. The colorless high temperature and high pressure diamond itself has semiconductor properties and cannot be processed by the automatic polishing machine. However, an insulating ceramic sleeve can be added, which is difficult to operate and is only suitable for processing rough bottom and rough surface.
Thermal Conductivity of Colourless Cultivated Diamonds 8. High Temperature and High Pressure
The thermal conductivity of diamonds cultivated under high temperature and high pressure is low. When measured by a thermal conductivity meter, most of them will stay at the position of the Moissanite Mossanite, and a small number will jump to the diamond position. The reason is that they enter too much iron and nickel metal during the growth process, forming very small ionic states and remaining inside the diamond as impurities. These impurities are extremely small and the number is large enough to affect the thermal conductivity of the diamond.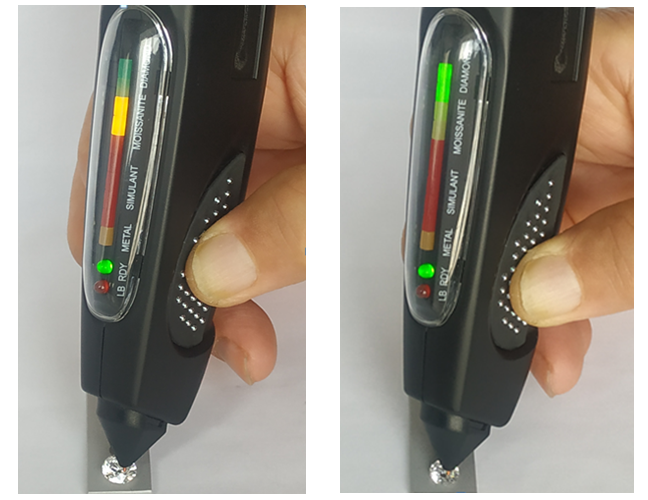 (left) HPHT cultivation diamond section shows MOISSANITE (right) section shows DIAMOND
Pollution Control of 9. High Temperature and High Pressure Electrolysis
All parts of the country are demanding to reduce pollution. Now that chemical electrolysis metal catalysts and graphite have improved and better ways, the industry must further use new technologies to control pollution.