Dr. Yuan talks about diamonds: which is better, HPHT or CVD?
---
In recent years, diamond cultivation is a new industry. Numerous enterprises and individuals around the world have entered or are considering entering the diamond cultivation industry. Other countries are directly considering investing in the growth of CVD diamonds. In China, everyone pays attention to high temperature and high pressure and CVD at the same time. The products obtained by these two methods, especially jewelry diamonds, are basically similar, but their industrial uses are quite different, the production efficiency and market of these two models have their own advantages and disadvantages.
1. High temperature and high pressure with six-sided top growing diamond in China is a traditional industry, diamond abrasive products, has accounted for more than 95% of the global output, if estimated the original production, China should account for more than 99%, most of other countries imported from China after processing, sorting and then sold for export. Since 2014, China has successfully grown white diamonds for jewelry. In recent years, the size, color and clarity have been gradually improved, and the rough required for finished diamonds with a weight of less than 3 karat can be supplied. In addition to about ten large-scale high-temperature and high-pressure growth factories in China, it is reported that about six large -5. new factories are under construction in the growth of jewelry blanks.
2. There are about 100 CVD diamonds in the world, all of which are small and medium-sized, and about 2. 30 in China. Everyone is improving the growth process and machine specifications. The structure of CVD reaction chamber, the market mainly has Japan SEKI flip cover type and SEKI and France straight tube type two types, domestic to straight tube type mainly. The following figure: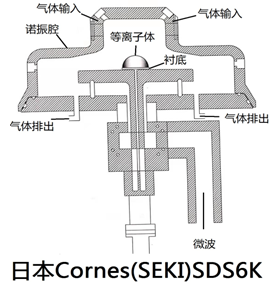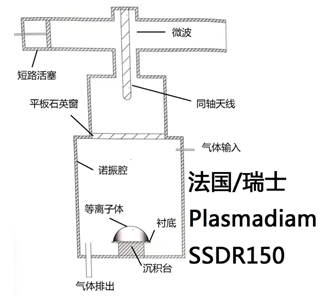 Coil type resonant cavity CVD reaction cavity Straight tube type resonant cavity CVD reaction cavity
The advantages and disadvantages of the two modes of high temperature and high pressure and CVD are as follows:
| | | |
| --- | --- | --- |
|   | high temperature and high pressure | CVD |
| Machine specifications | Bore 850mm (750mm) | 6KW (15、20、60、75KW) |
| Machine unit price | $1.8 million/set | $100~300Ten thousand/set |
| Floor Area | 50 square meters * 10 meters high | 10 square meters * 3 meters high |
| Blank main specification | 2~6 karat | 10~20 karat |
| Main specification of finished product | 0.5~2 karat | 2.5~5 karat |
| Main product color | DEF | FGH |
| Main product clarity | VS~SI | VVS~SI |
| Main disadvantages of the finished product | Black dot catalyst metal | Brown, gray secondary color |
| phosphorescence | Strong | Medium/Weak/None |
| Conductivity | Semiconductor | None |
| Thermal conductivity meter | Mossam Diamond/Diamond | Diamond |
| Stop in growth | Not available | Yes |
| Pollution | Graphite, acid treatment | Tail gas of hydrogen, methane and nitrogen |
| Sustainability Product Package | Utilizing Green Power | The use of green power, extraction of carbon dioxide in the air to grow diamonds |
| Industrial use | Abrasives, turning tools | Polycrystalline electrodes, turning tools, diamond PN junction luminescence, hot plates, diamond wafers to make semiconductor chips, quantum materials. |
| Main product blank carat number/platform | 100 karat | 80 karat |
| Main product blank selling price/platform | $80000 | $150000 |
| Production cost/platform | $25000 | $40000 |
| Gross profit/platform | $55000 | $110000 |
| China-wide expansion of energy production | 600 units/year | Unlimited |
The existing technology of high temperature and high pressure is seed temperature difference method, which is mature technology and has little room for improvement. If it is to be expanded, the model can be expanded to 1000mm cylinder diameter (with sets). In addition, spontaneous nucleation method and relay growth method may improve the growth effect.
There is still much room for improvement in CVD growth technology, such as expanding the growth of seed crystal chip size, improving the machine structure and material to avoid and reduce the generation of gray black, changing the machine to large size, and improving the 2-inch tray to 4~6 inch tray.