Dr. Yuan on Diamonds: The History and Future of De Beers
---
De Beers is the world's largest natural diamond mining company. De Beers has been synonymous with diamonds since its founding in 1888 in Gymbury, South Africa. As early as 1934, De Beers established DTC, a sales organization, to sell diamond blanks by Sight. At most, it controlled 85% of the world's blanks, and now it controls about 40% of the blanks.
De Beers's two successful advertising words have a long influence: "Diamonds are a woman's best friend" (Diamond is girl's best friend), "Diamonds last forever, one will last forever" (A Diamond is Forever).
De Beers set up a research and growth institution for synthetic diamonds in 1946, Element 6 (Element 6). Over the years, it has conducted in-depth research on high temperature and high pressure, CVD growth technology, and has the best technology in the world.
Over the past six years, the elements have grown samples of very good quality jewelry diamonds, and De Beers has repeatedly declared that they will not use synthetic diamonds for jewelry sales. On May 29, 2018, De Beers suddenly announced that it would start producing synthetic diamonds for jewelry use, which shocked the diamond industry around the world. De Beers is the most understanding of natural diamonds, but also the most understanding of synthetic diamonds, natural diamonds gradually depleted of the fate of the future diamond market will be synthetic-cultivated diamonds to fill its space, De Beers must enter the market very early, occupy a favorable space is still the leader of the post-natural diamond era.
Element 6 invested US $94 million and set up a subsidiary Lightbox in the suburbs of Portland, Oregon (Portland) in the United States. CVD is used to grow diamonds by hydropower. In 2020, it will start selling the products of its own factory. Their weight is only 1.00, 0.75, 0.50 and 0.25 karat. Their color and clarity are not graded. White, pink and blue are sold at the same price. Now through the United States jewelry business Blue Nile in more than 40 countries around the world, including China, but need to be sent to other regions or countries, such as Hong Kong, Macao, the United States. Their quality description is: color j above, clarity VS2 above, to 1 karat J/VS2, US$800/carat, accounting for 15% of the Rapaport quotation 1 karat J/VS2, US$5300/carat, this is the retail price of round diamonds, and the wholesale price is about half of the retail price ratio.
Until mid -2020, De Beers sold nurtured diamond jewelry in a model that belittles nurtured diamonds, but by late 2020 began to face up to nurtured diamonds as high-end jewelry sales. Lightbox will sell more cultivated diamonds in the future and occupy a more important share in the world diamond market. Their selling price standard will be an industry indicator. Other companies are selling at a higher price than Lightbox. After the technology is more mature in the future, the standard reduced to De Beers will be a reasonable price model.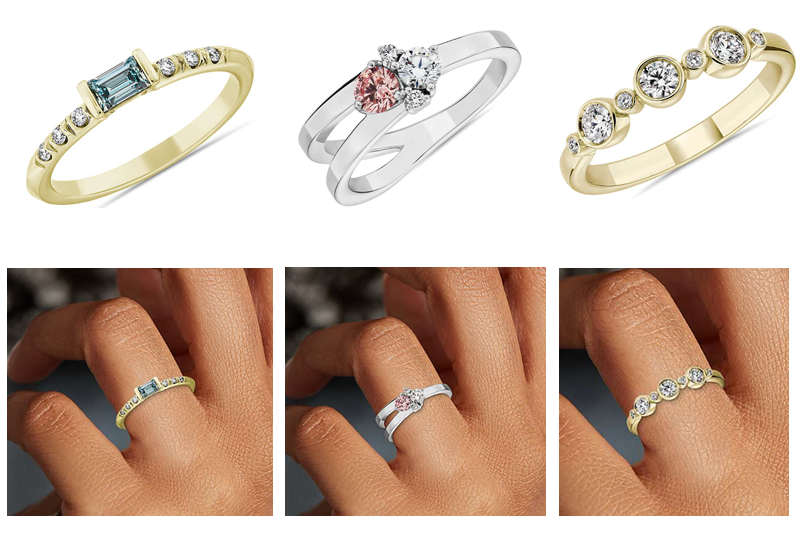 taken from Lightbox catalog