They are the identity cards of diamonds. Interpretation of 4 kinds of characteristic diamond certificates
---
There is no way for the naked eye to distinguish whether a diamond is natural, synthetic or treated. A reliable certificate is very important. However, you have found that there is more than one institution that issues diamond certificates. You must have wondered whether the identification and grading results brought by different certificates will be different. Diamonds have DNA, so do these certificates also have DNA? Today, the editor will take you to decrypt the diamond certificates with their own characteristics.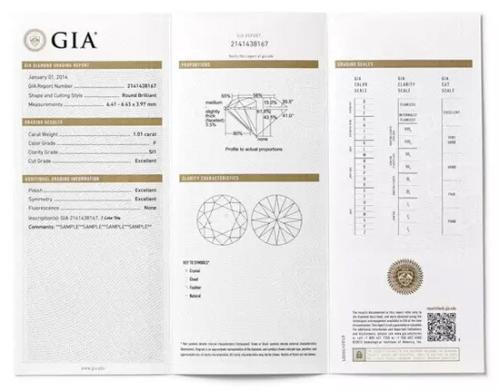 GIA Certificate
  全称:Gemological lnstitute of America
Chinese name: American Jewellery Institute
Starting year: 1931
Certificate status: Created the diamond 4C grading system that has been used to this day, pushing diamond identification to the founders of internationalization.
The biggest feature: as a standard setter, GIA for the 4C classification standard control is absolutely the most accurate.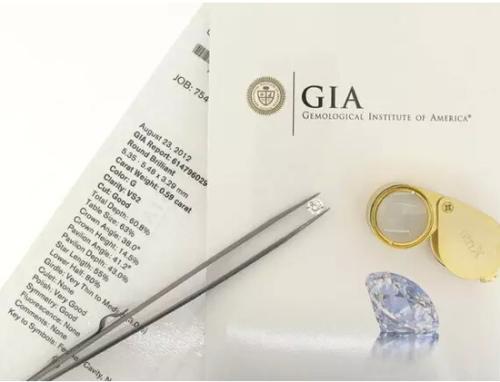 GIA Certificate
This secret you need to know: diamonds with GIA certificates are more expensive than diamonds with other certificates, not only because GIA certificates are more expensive to identify, but from liquidity to credibility, people generally believe in the identification results of this standard designated body.
When it comes to diamond certificates, the first thing many people think of is GIA. In the current market, the use of GIA diamond certificates can almost be regarded as mainstream, and even the most authoritative and objective diamond certificates. Maybe every institution can do the digital test results, but only GIA can create the test system.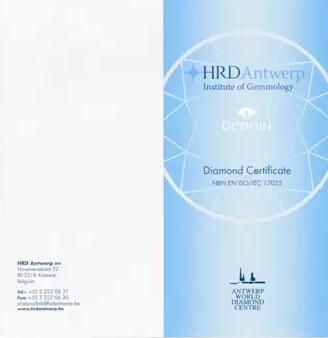 HRD Certificate
  全称:Hoge Raad voor Diamond
Chinese name: Belgian Diamond High-class Parliament
Starting year: 1973
Certificate status: established in Antwerp, Belgium, the diamond cutting center, and the International Diamond Commission jointly drafted the "International Diamond Grading Standard" IDC standard.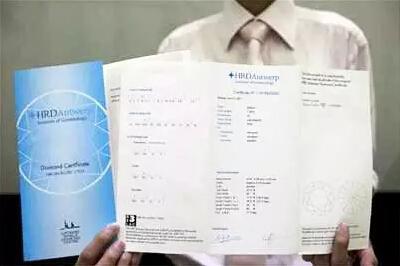 HRD Certificate
The biggest feature: HRD is particularly prominent in the identification of color grades and naturalness of colored diamonds.
You should know this secret: HRD Diamond Certificate also introduces a quick "Diamond Identification Certificate" for diamonds below 1 karat. The content is simple and clear at a glance, but the information is rarely brief.
Comments: HRD diamond certificates use more descriptive language. For example, instead of dividing diamond colors by D, E and F like other certificates, phrases such as "White" and "Slightly Tinted White" are used, and color grades below N are no longer distinguished.
IGI Certificate
  全称:International Gemological Institute
Chinese name: International Gemological Institute
Starting year: 1975
Certificate status: the world's largest independent jewelry identification laboratory, with laboratories in major diamond trading centers around the world, is known as "the authoritative appraisal institute around consumers".
Biggest Features: IGI can issue certificates for diamonds of any size in a variety of layouts and formats, making it easy to carry around. Although the small certificate sparrow is small and well-equipped, no matter how the layout of each certificate is issued according to strict international standards, and has multiple anti-counterfeiting measures.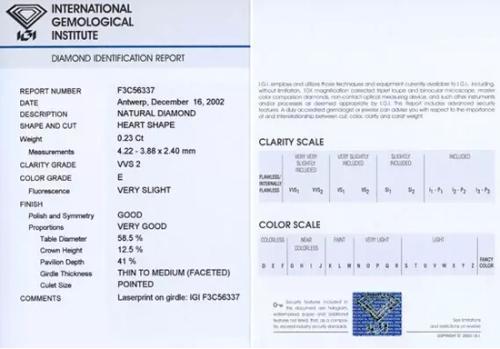 IGI Certificate
You should know this secret: IGI certificate is extremely accurate in describing the cutting information. Under Finish, it also subdivides the proportion description of Symmetry (symmetry), Polish (polishing) and Proportion (proportion), and the description of details such as diamond bottom tip and waist is also in place.
You can know more: the history of IGI is extremely rich! It started from the private collection of the Belgian Diamond Family, and later attracted the attention of various European royal families. Because it can give detailed and accurate identification results for the inlaid and more complex crowns, necklaces, and rings, it is more and more people. trust. Moreover, IGI developed the world's first complete and comprehensive diamond cutting rating table (Cut Grade Chart), which later became the prototype of the modern diamond cutting system.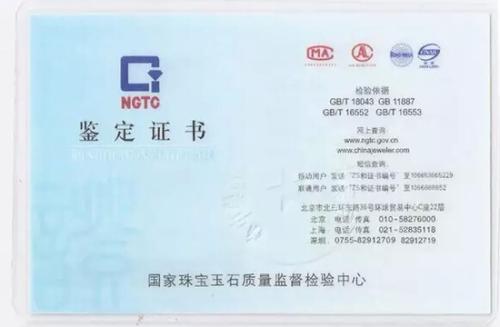 NGTC Certificate
  全称:National Gems&Jewelry Technology Administrative Centre
Chinese name: National Jewelry and Jade Quality Supervision and Testing Center
Starting year: 1993
Certificate status: the founder of the first diamond grading standard in China
Features: In addition to grading identification of bare diamonds, it also provides identification of inlaid diamonds.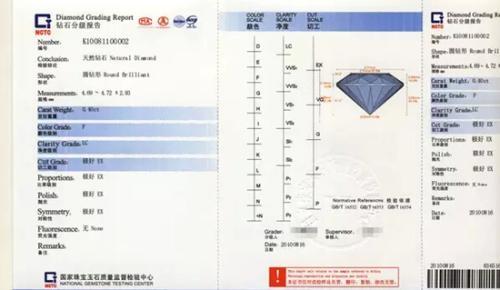 NGTC Certificate
This secret you need to know: China is the only country in the world that has a national standard for diamond grading and a national standard sample of a stone! NGTC's diamond certificates are currently in compliance with the latest revised national standards in 2010. The cutting grading of the national standard for diamond grading adopts intuitive words, which makes Chinese consumers more understand when looking at the certificate.
More content here: in addition to issuing a diamond grading certificate, it is also carried out on the diamonds that have been set. Moreover, in order to provide better identification and grading services, NGTC continuously introduces new equipment and continuously upgrades certificate versions. Not only increase the size of two versions of the diamond certificate for demand, in addition to increase a variety of anti-counterfeiting query.