Dr. Yuan on Diamonds: De Beers Begins to Sell 2 karat Ordinary and 1 karat High Quality Cultivated Diamonds
---
On August 20, 2021, De Beers Lightbox announced that two products will be added from October 1 karat to the original retail price of US$800/ct for cultivated diamonds:
1) 1 karat white high quality, D-F color, VVS1-2 clarity, turnman EX, priced at US$1500/ct.
2) 2 karat ordinary quality, color G-J, VS1-2 clarity, lathe worker VG, the price is US$1600/grain, that is, US$800/ct
Originally 1 karat ordinary goods, the price of G-J color, VS1-2 clarity and VG for lathe workers is still US$800/ct.
Let's sort out the comparison between their retail prices and the existing retail prices in the U.S. market: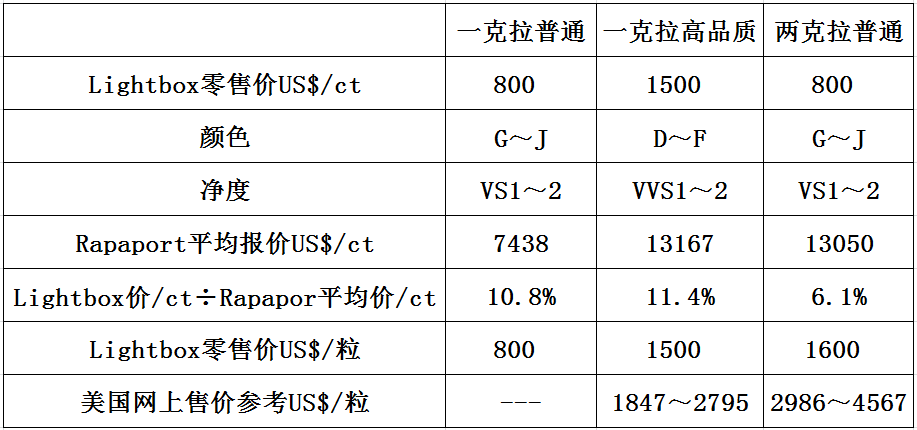 In China, the cultivation of diamond market sales method is to IGI, GIA certificate series, find the Rapaport quotation on the quotation amount, and then discount.
We can estimate whether De Beers' policy will sell 3 karat and 4 karat ordinary quality according to US$800/ct in the future? De Beers only invests US $94 million in the Lightbox now, and if the market needs it in the future, they can easily continue to invest hundreds of millions of dollars to supply the market in unlimited quantities.
The number of CVD cultivated diamonds produced in India is now the largest in the world, but the color is poor, mainly because CVD machines and growth processes are not ideal, and the CVD cultivated diamond belts they grow normally.Brown, after HPHT color change, brown will be reduced or eliminated, but at the same time there will be gray tone, which is less popular in the international market. India's CVD-cultivated diamonds have also entered a large number of domestic sales in recent years. India's IGI and GIA certificate grading standards are actually relaxed compared with IGI and GIA in other regions. Therefore, the price of the same certificate grade is lower than that of domestic normal color-cultivated diamonds, which is less popular among professionals, but has affected the stability of market prices.
De Beers adjusted the price of 2 karat-cultivated diamonds this time, which has a greater impact than India's CVD-cultivated diamonds. They will start selling them in more than 70 countries around the world by US jewelry e-commerce company Blue Nile in October this year. At the beginning, we can ignore them. If consumers gradually purchase large quantities through Blue Nile, which affects the sales of our HPHT and CVD cultivated diamonds, we will respond again.

Lightbox sales products